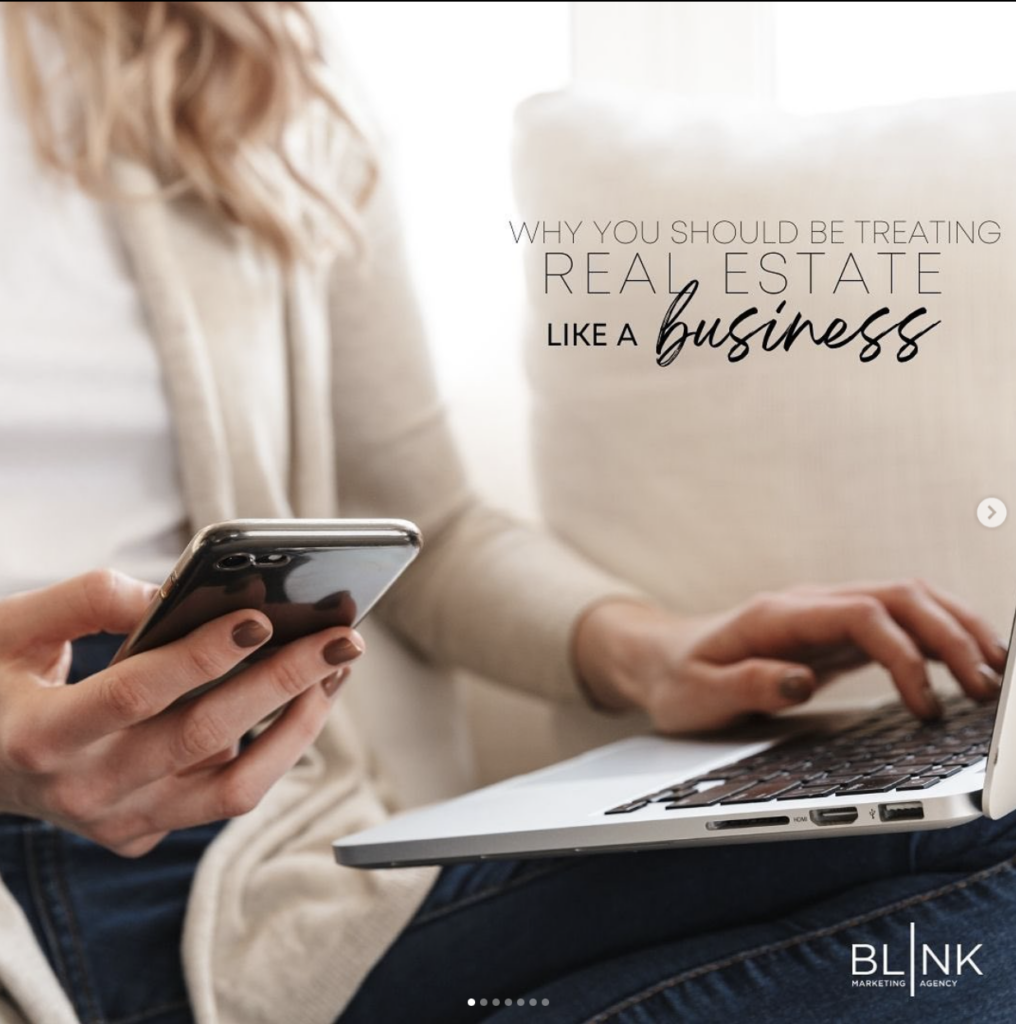 Why you should be treating real estate like a business
Why you should be treating real estate like a business

The answer to that question could determine your success in the industry!
If you're not treating your career as a business, you're hindering your success in this industry. Checkout the images below to see what you can do today to ensure you're setting yourself up for success. Remember set goals and stick to them. Stop embracing that eight-to-five mindset, and get used to the idea that you no longer have a job you have a business.
Save this post for later, or send to someone who just got started in real estate!
How do you view your career in real estate? 
If you want to be successful, you'll treat it like a business
Did you know? 87% of real estate agents fail within the first 5 years!
There is so much more than just getting your license, picking a brokerage, and flying by the seat of your pants.
You have to have a plan.
01. HAVE A BUSINESS PLAN & MARKETING PLAN 
In order to succeed, you need to treat your job in real estate as a BUSINESS. This means creating a business plan that outlines the steps you need to take in order to reach your goals.
Write your mission statement
Conduct a strengths, weaknesses, opportunities, and threats (SWOT) analysis
Get your finances in order and create a budget
Set specific and measurable goals
Plan your lead generation strategy
Calculate your income goal
Figure out how many sales you need to reach your income goal
Create a strategic and diverse marketing plan & STICK TO IT
A business plan sets the foundation and creates guidance on income goals, marketing strategies, goal setting, lead generation, and understanding of your competitive landscape.
02. SCHEDULE DAILY & TIME-BLOCK
Treating real estate like a business involves scheduling a time-blocking. Scheduling your week out is a simple behavioral change that helps you focus on dividing up your time, versus dividing your attention.
As a real estate agent, time is your most precious resource. Every week, create your schedule. This includes time-blocking for 
Lead generation

Emails & follow-up

Weekly appointments

Marketing / advertising\

Career growth activities (including training — always be learning!)

Administrative tasks and paperwork

Personal time
03. BE PROFESSIONALLY BRANDED
In order to be successful, you need to have a professional presence. You need to stay branded, and recognizable. Remember, YOU ARE YOUR BRAND. Your brand is how you communicate your mission, vision, and values to your potential clients, and great branding will help you stand out from the competition. 
Give your brand a definitive look & develop a brand kit
Stay consistent across all platforms — both online and in print
Have a professional-looking website where you can capture leads and create an online presence
Identify your "avatar" or your niche — who is your preferred clientele? Identify the best ways to communicate with this target audience
Create a unique message and value proposition
Get professional help, if necessary