Everything you need for real estate 
marketing & social media. 
All in one place.
SPEND TIME SELLING HOMES,
NOT CREATING CONTENT
STAND OUT ON SOCIAL MEDIA
Blink social media is created by our team of top producing agents, providing you with fresh content every month. Our unique and thumb-stopping images are unlike anything else on the market. We offer 4 different styles to choose from to fit your brand. 
Auto posting options are available to save you time and give you peace of mind, knowing your social media is on auto pilot.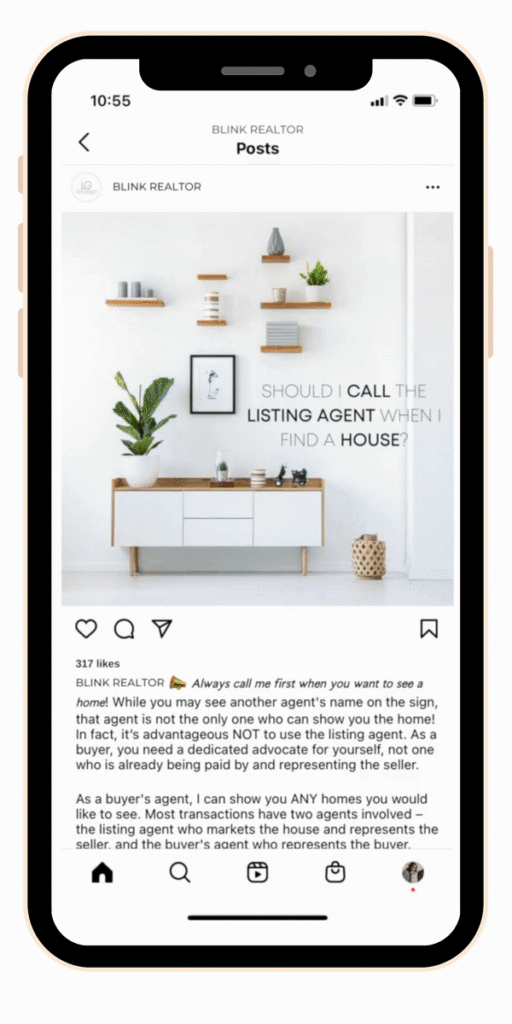 Take a look at some of our current clients…
Position yourself as a the local real estate expert using our visually dynamic postcards and pop-bys.
Our strategic mix of print marketing is a vital part of our strategy to help you get new listings and referrals in your local community.
We have a proven and unique strategy to stay top of mind with your past clients and database to gain a constant stream of referrals and repeat business. Our monthly newsletters are ready for you to send immediately to your database with information relevant to the current market. 
By showing your appreciation to your clients through our custom designed and easy to implement client events, you will never have to cold call again.  
We provide all of the templates and tools you need to build a powerful brand that helps you stand out. Receive full access to hundreds of marketing materials and templates, all customizable in your marketing toolkit. 
From buyer/seller guides to listing marketing materials, we have it all. 
Our strategic mix of ONLINE & PRINT marketing
is the solution you've been looking for,
WITHOUT hiring an expensive marketing assistant. 
We have your social media, newsletters, postcards, local lead gen, 
hundreds of templates, auto-posting & more! All in ONE PLACE. 
We've been there…that's why we created BLINK Marketing.
We understand how hard it is to run a successful business, generate leads, AND stay in touch with past clients. 
Even as successful, top-producing agents, we struggled to find the time to keep in touch with our past clients, generate new leads, and maintain a strong social media presence. 
So we came up with a plan. Creating a unique mix of online and print mediums, we now easily stay in touch with our entire client base, regularly generate workable leads, work efficiently, and our sales have skyrocketed!
Now we're bringing it all to you!
Simple. Easy. Affordable. Necessary. 
The Blink Team
Alex, Angie & Sharra
Use our unique plan to attract leads & win online!
We created blink to help agents have a strong social presence online, stand out as the
local real estate expert, and generate a steady stream of referrals. 
Take a look at some of our current clients…