Everything you need for real estate 
marketing & social media. 
All in one place.
Grow your referral business authentically using social media and print marketing – we give you the content & the tools to do it successfully!
Fresh monthly content written by our team of real estate agents
5 posts per week with images and lead attracting captions 
Auto-posting available for only $89
5 different styles to choose from to fit your brand
NEVER worry what to post again!
Pre-made, ready-to-post reels & stories to boost engagement
Weekly member emails with trending reels to quickly post engaging content
Library of templates for just listed/just sold, market updates, local engagement, and so much more
See Blink Social Media LIVE on Instagram
Trusted By Top Agents & Brokerages to Maintain a Strong Social Presence…











Postcards, Mail-bys & Pop-bys
Dynamic postcard library, updated monthly
Easily stay in touch with your past clients and gain authentic referrals using our ready-made mail-bys. 
Use our ready-made pop-bys for hyper local leads and farming in your neighborhood
You get access to our library of mail-bys & pop-bys with full templates & instructions!
Newsletters & Client Events
Monthly newsletters written by our team of agents – easy to send & ready made for you every month!
Insert our newsletters into MailChip with our direct template link! Or insert directly into any CRM in less than 5 min!
Client appreciation events AND local community events! We give you full templates, instructions and pro-tips!
Marketing materials for client events done for you!
Printable Marketing Materials
Listing presentations
Buyer/seller guides
Just listed/just sold flyers & social posts
Staging guide
Business planning guide
Comparative Market Analysis (CMA)
FSBO Guide
Local Hotspot Guide
So much more! Take our tour to view it all! 
Hundreds of marketing materials and templates, all editable in canva
Our strategic mix of ONLINE & PRINT
is the real estate marketing solution you've been looking for,
WITHOUT hiring an expensive marketing assistant. 
We have your social media, newsletters, postcards, local lead gen, 
hundreds of templates, auto-posting & more! All in ONE PLACE. 
Take a closer look into the Blink strategy…
We provide all of the IMAGES & CAPTIONS! Our content is written by our team of top producing real estate agents & professional designers – so its not only beautiful, it's hyper relevant to the real estate industry!
Our content is ready to copy, paste, & post for our DIY plan (or we can easily AUTO-POST it for you in level 2 or 3!)
We provide…
FIVE different social media styles

25 new images & copy every month 
Pre-made Reels & Stories

AUTO POSTING to Facebook & Instagram

All social media is easily editable in Canva
Use our Pop-by's & Mail-by's to stay top of mind in your local neighborhood as the local real estate expert, or use them to stay in front of your top clients. 
We give you everything you need to successfully farm leads in your local area. You get:
A library of full templates
Exact instructions
Links to gifts and supplies

Our pop-bys and mail-bys are pre-written, with gift suggestions – ready to personalize in Canva & deliver!
Stay connected with past & current clients by hosting successful client appreciation events.
Turn your neighborhood & community into a lead generation machine AND give back at the same time!
We provide the ideas, instructions and materials…all you have to do is follow the plan! You get:
A library of event ideas

A full set of templates for each event

Exact instructions

Links to gifts and supplies
We write new, original monthly email newsletters that are super easy to send in your CRM!
Each newsletter coordinates with our monthly theme and our social styles. Communicate & keep in touch with your database by providing meaningful and relevant content, but never worry again what to say! 
Our newsletters are pre-written and ready to personalize in Canva & send!
It's too easy to delete voicemails and text messages. Send postcards to your sphere & neighborhood farm…don't underestimate the power of direct mail – especially when it's a relevant message & reinforces your brand. 
We give you a library of fully customizable, pre-made postcards ready to personalize in Canva & send!

Monthly themed postcard, Just Listed / Just Sold templates, Market Updates, Farming Postcards
You get full access to everything you need to market yourself and your listings!
Buyer & Seller Guides

Just Listed / Just Sold Flyers
Open House BiFold Brochure
Listing Presentations
Home Buyer/Seller Questionnaire
FSBO Guide
Testimonial Templates
Local Guide + Community Resources
Trusted Vendor List
Custom Branding (add-on available)
And SO MUCH MORE!!
All templates are easily editable in Canva and can be used over and over!
We've been there…that's why we created BLINK Marketing.
We understand how hard it is to run a successful business, generate leads, AND stay in touch with past clients. 
Even as successful, top-producing agents, we struggled to find the time to keep in touch with our past clients, generate new leads, and maintain a strong social media presence. 
So we came up with a plan! By creating a unique mix of online and print mediums, written by our team of top agents, we provide real estate marketing home base for you! Easily stay in touch with your entire client base, regularly generate workable leads, work efficiently, and our sales have skyrocketed!
Now we're bringing it all to you!
Simple. Easy. Affordable. Necessary. 
The Blink Team
Alex, Angie & Sharra
Ready to become the local real estate expert?
We are here to help and we would love to have you!
Don't just take our word for it…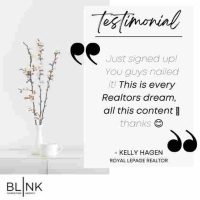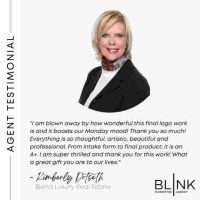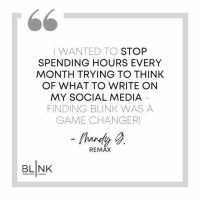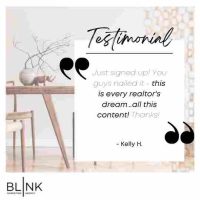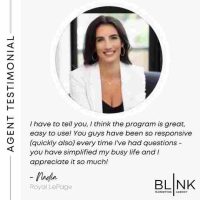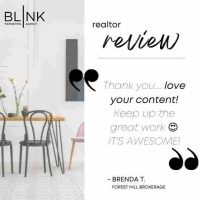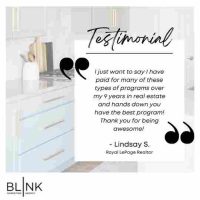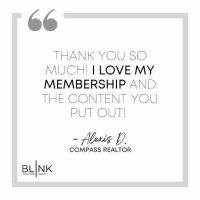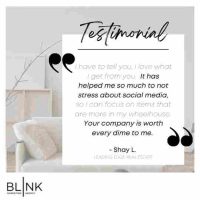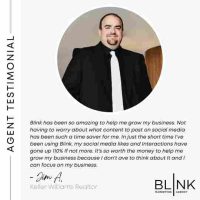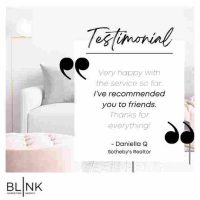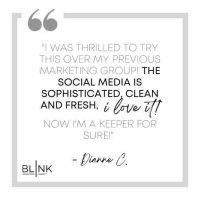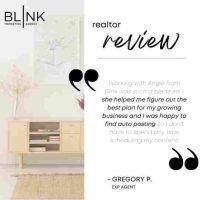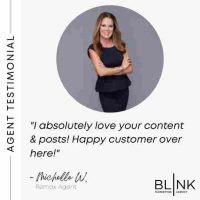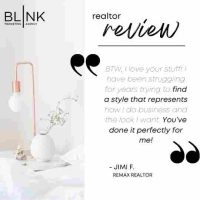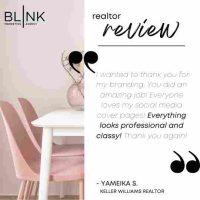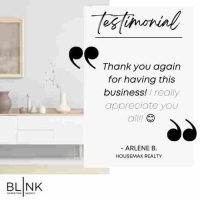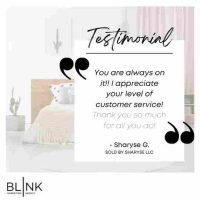 Trusted By Top Agents & Brokerages to Maintain a Strong Social Presence…